e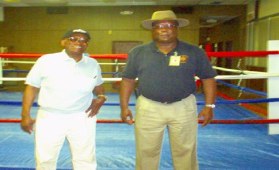 Reverend Frank Ray( left) with Boxing Club President Merritt Johnson
Organized in 2000 this Program is designed to assist
kids and young adults between ages 8 to 26 years old
with special emphasis on youth at high risk for violence.
The Boxing Program is operated by 8 professional
trainers who are available at the facility
Monday through Thursday: 6:00 PM-10:00 PM.

John Paul Jones Jr.
G C Quality Lubricants Inc
City of Macon, Ga
Mayor Jack C. Ellis
Macon, Police Department
Chief Rodney Monroe
Charles Dudley, City Councilman
Brown & Williams Tobacco Company
REGISTRATION AND INSURANCE

ALL AMATEUR BOXERS MUST BE REGISTERED WITH USA/BOXING.
THIS IS THE GOVERNING BODY FOR ALL OF AMATEUR BOXING.
USA/BOXING is the organization responsible
for all of the rules and sanctions
for all amateur boxing in the country.
A secondary insurance policy is included with the registration of each amateur boxer. Secondary coverage means that USA/Boxing insurance covers any expenses not covered by an athlete's own insurance.
If athletes do not have any insurance of their own, then the USA/Boxing Insurance covers all the expenses,. Coverage includes all workouts in any registered facility. It also covers competition in any sanctioned event.
All of the officials involved in this sport are required to attend certification clinics each year to maintain the highest degree of competency at every level.
The coaches in this program are all required to attend a certification clinic yearly. They are also required to know basic First Aid and CPR

The behavior of our athletes both in and outside of the gym directly reflects on this program and the people involved with it. It is imperative that everyone involved with this program represents us in a positive manner. We expect our people to set the hallmark in sportsmanship, conduct and overall behavior for all the other programs involved in boxing.
Here are a few of the rules:
1. Respect the gym. Leave things as you found them. This includes not taking things that aren't yours
2. Respect other people. Don't mess with other people's things. Don't interfere with their workout.
3. There will be no sparring without headgear, mouthpiece, and supervision.
4. No foul language
5. When you are here WORK OUT! The gym is not a playground.
6. If you see something out of place PICK IT UP.
7. Remember that the people running the gym are Volunteers. Try to do what you can to make their job easier.
8. You know the difference between right and wrong. DO WHAT'S RIGHT.
( if you don't know the difference, ask the coach.)